Thank you for considering a contribution to Faith Heritage School.
For 45 years, the Lord has provided for this ministry through faithful contributors like you.  There are many ways to partner with our school and show your support.  Contributions can be made to: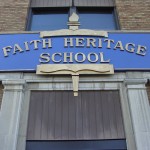 Over our history, the Lord has provided for Faith Heritage through the generosity of the Christian community.  Tuition covers only about 75% of the school's budget.  Support from faithful contributors has helped us remain strong, bridging the gap to provide necessary funds for our annual operations and to make needed improvements.
---
This Spring, Students will be raising funds for our healthy event Spring It On! The event is on Friday, May 12th. It's a healthy day… for the students and the school! The entire school will participate in healthy games and activities while raising money through sponsorships for FHS. Please click the link below to go to the Support a Student page.
---
This fund helps to open the doors to Christian Education for families who otherwise may not have an opportunity to attend. Click the title link to contribute to this fund. You'll bless others with an education founded on the Word of God.
---
On Thursday, February 9th, 2017, the FHS Fine Arts Department presented an evening of special music as a fundraiser to support the Arts at our school. Money raised will be used to purchase instruments for the Elementary and High School Bands.  Our goal for the project is $2,000.  So far, we have raised approximately $1,000.   If you wish to make a contribution to musical arts at FHS, please click the link below. We are also accepting donations of used instruments.
---
At Faith Heritage, we've always been proud to offer a well-rounded sports program while maintaining our focus of providing a Christ-centered education.  By becoming a Saints Booster, you will be helping the school provide the equipment and resources needed to assist our coaches and teams, and enhance the spectator experience for our fans. Please Click on the link below for Membership and Corporate Sponsorship Opportunities!
---
As a college preparatory school, it is essential that our school remains up to date with the latest software and technology.  Over the last several years we have been able to equip our classrooms with Smart Board technology, provide the latest software in our computer lab, improve our parent communication software, and continue science lab enhancements.  There is a need for more Smartboard units, improved computer stations in the Yearbook Room and Library, mobile computer labs to bring research capability to any classroom, and ongoing faculty training.  Please consider a contribution to keep our school up to date with technology.